Our Staff
Rachel Becker, DVM

Veterinarian
Born and raised in the suburbs of Buffalo, NY, Dr. Becker attended Ross University in the Caribbean for veterinary school. She then did her clinical year at Texas A&M University. While at Texas A&M, she met her husband and decided to stay in Texas! Dr. Becker has been practicing veterinary medicine for 11 years, which includes small animal, emergency, and equine. She & her husband moved to Brazoria County in 2011, and have made this their home ever since. "Brazoria County is a special place and that is why we have decided to open up our practice here, and raise our family here." Dr. Becker is excited to bring very high-quality medicine to the area.
In her free time she loves to spend time with her family, which includes her husband, daughter, and also 9 dogs, 11 cats, & 2 horses! She also enjoys gardening, baking, traveling, and outdoor activities with the family!
Alyssa Beverly

Lead Exam Room Veterinary Technician
Alyssa has been working in the veterinary field for seven years as a technician and has loved every moment of it! Alyssa is super excited to be a part of the Hope team. She graduated from the Veterinary Institute of Houston with an associate's degree in science in 2016. She is very passionate about providing love, care, and help to all of her four-legged friends! Alyssa shares her home with Volt, a cocker spaniel, and Lilo her cat. In her spare time, Alyssa loves cooking new dishes for her family and watching movies.
Heather Ragle

Lead Surgery Veterinary Technician
Heather has been working in the veterinary field for 14 years now. She is from San Jose, CA and then moved to Texas in December of 2020. Heather loves being in Texas. She can't wait to learn and try all the things Texas has to offer! Heather also has 2 pets. Her beloved dog named Alano that means the world to her. Alano is a Alapaha Blue Blood Bulldog. She also has a pet turtle named Merlin. In Heather's free time she loves the outdoors, especially hiking & camping at lakes. She also loves music, dancing, & enjoys watching crime shows & scary movies on TV! She also has a twin sister.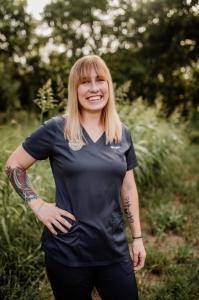 Morgan Stevens

Veterinary Technician
Morgan was born and raised in Lake Jackson, TX! As a child, Morgan always had a love for animals and small creatures. She was spending most of her time as a kid catching bugs, frogs, and snakes. She also loved to watch The Crocodile Hunter, Steve Irwin, and Jeff Corwin. She graduated from Brazoswood High School in 2013 and got her certification in Veterinary Assistance in 2014 at Brazosport College. Morgan began working as a kennel technician and then as a veterinary technician. She plans to go back to school to become a registered veterinary technician. Morgan married her best friend Tanner in 2019, and together they have an adorable son named Greyson. They also have 1 dog named Hooey and 1 cat named Baby. In her free time, she enjoys spending time with her family and friends. Morgan looks forward to building a relationship with you and your pets!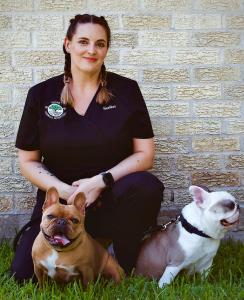 Heather Bland

Veterinary Technician
Heather is from Lufkin, TX! She started working with animals through Lufkin Animal Control in 2009. While there she met her best friend and husband Cody! She moved her family to Angleton, TX in 2014. She started in the Veterinary field in 2015 as a Veterinary Technician and has loved everything about it! Heather loves to do blood draws and set catheters. She has 2 wonderful children, daughter Emily and son Jaden! Heather has 2 french bulldogs, one is Bowser, who is a baby all the time. Bowser was rescued a 2 days old since he has a cleft palate. Sully their other bulldog is also a rescue. She also has 1 cat named Bella, and 1 bird, a parrotlet named Rio! Her favorite holiday is Halloween. In her free time she loves to watch scary movies, listen to 90's music, shopping, and going to the beach with family and friends. Heather is excited to be a part of the Hope team and is looking forward to meeting all the clients and their furbabies!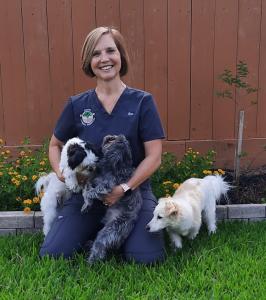 Ilse Welch

Veterinary Technician
Ilse was born in Belgium and followed her best friend and husband to Texas! Together they have raised 5 children, and were foster parents for several years. Ilse has been working in the veterinary industry for the past 12 years. She started as a Kennel Technician, and worked her way up to Veterinary Technician. She loves animals, but also loves being around people and building a relationship with all of the clients at Hope Animal Hospital. Ilse has 3 small dogs, that she says are not very bright, but super cute and sweet. In her free time she enjoys spending time with her family, most of all her beautiful grandchildren. Ilse is excited and feels lucky to be a part of the Hope team!
Lauren Primrose

Veterinary Assistant
Lauren grew up in Danbury, TX and recently moved back to Brazoria County after living in the Austin, TX area for 6 years. She has always been an animal lover and often comes home with stray dogs or other animals in need! While living in Austin, Lauren was a full time dog walker/petsitter. Lauren is very excited to be a part of the Hope team! She graduated from the University of Houston-Clear Lake in 2016. Lauren has a 12 year old dog named Rayne and 3 black cats; Binx, Blair, and Danny. She is getting married in November 2022 and is excited for this new chapter of her life. In her free time she can be found outside birding, exploring new parks, or gardening.
Jenna Farris

Lead Client Service Representative
Jenna was born and raised in Angleton, TX! She has always loved all types of animals, and grew up bringing home everything from baby ducks, to hurt critters in need of care. Jenna went to Texas State University and graduated with a Bachelor of Science in 2010. She has two handsome boys, Gauge is a GSP/Greyhound mix, who is gentle, and can always predict the weather. Trypp is made from spare dog parts (nothing on him matches) and is hilariously chaotic. In Jenna's spare time, she loves to cook, read, garden, hike, and spend time with her family. She also enjoys raising Swallowtail & Monarch butterflies. Her favorite tv show is "Big Bang Theory," and one day Jenna would like to witness the great migration to Kenya.
Brooke Ullom

Client Service Representative
Brooke was raised in Danbury, TX. She graduated from the University of Houston with a degree in Health Administration. She hopes to acheive a career in management one day. Due to her natural-nurturing insticts, Brooke has always had a passion towards taking care of animals. She is a dog mom with 2 rescue pups. Emmy was rescued from the SPCA, and Daisy Joe was rescued here at Hope Animal Hospital. She enjoys spending her free time with family and friends. Her 2 sweet nieces are the highlight of her life. Brooke is looking forward to getting to know all of Hope Animal Hospital's clients and patients!